We highly recommend the Vita Mix to all our guests at Yoga Oasis. We use it everyday in our kitchen to make smoothies, sauces, amazing salad dressings, soups and more. Vita Mix offers many different packages. See below for the deal that best suits your needs.
Healthy Whole Food Meals are Quick, Easy and Delicious!

Place your order by calling:

Call 800-848-2649 ext: 2308

Give the code 06-001316 for free shipping!

A whole food diet is the key to a long and healthy life according to the USDA.

New recommendations total 12 servings of fruits, vegetables and whole grains every day. Those guidelines are easily met with terrific-tasting, nutrient-rich whole food meals made in the Vita-Mix Super 5000.

Make whole food juice that's full of fiber and flavor in under a minute.
Cook soup from scratch that's hot, hearty and satisfying in just 4 minutes.
Make frozen treats that are full of fruit and low in fat in only 30 seconds.
Grind fresh whole grains into flour and knead dough for healthy home made bread in one 5-minute operation.


Write down this special code now.
*** 06-001316 ***
to receive FREE Standard Shipping, a $25 value!




Call 800-848-2649
ext 2308

ask for Sue - give her the code and get free shipping

Write down this promotion code to receive

Free Standard Shipping

06-001316

Powerbreathe
Proven to improve breathing in just four weeks with regular use (a few minutes twice daily), these are the most versatile, effective inspirators available. Each Powerbreathe® uses resistance training to strengthen the muscles around your lungs. Safe and easy to use, they restore and improve your ability to breathe deeply and easily.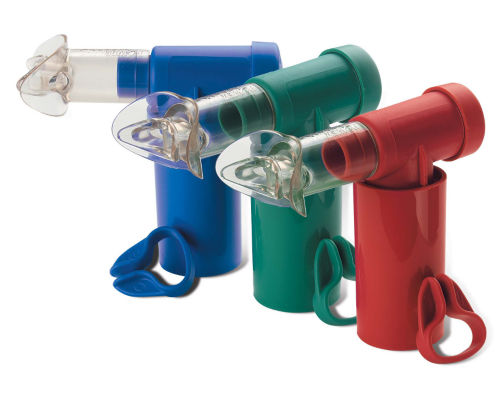 The Fitness Inspiratory Muscle Trainer (blue) improves lung capacity. The Wellness Lung Exerciser (green) reduces breathlessness in everyday activities. The Sports Performance (red) helps you push your aerobic capacity to the next level for swimming, running, endurance and high-altitude sports.

www.YogaOasis.org
e-mail: info@yogaoasis.org
P.O. Box 1935
Pahoa, HI 96778